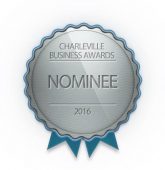 It is with great pleasure that we can announce that Colm Dawson, Managing Director of Perfect Water Systems Ltd., has been nominated for Charleville Businessman Of The Year award which will be announced at the Charleville Business Awards taking place on Saturday night November 12th 2016 at Charleville Park Hotel.
The awards night for local businesses in the Charleville area of Co Cork is organised by Charleville Chamber of Commerce. The Charleville Business Awards night is held to acknowledge all those in business and industry in the town and local area to recognise the enormous contribution they make to the local economy through their creativity, innovation and sense of entrepreneurship.
Congratulations to Colm on his nomination.