Description
Enjoy drinking tap water with total peace of mind from the Kinetico K5 Pure Reverse Osmosis System
Most advanced filter system of its kind
Removes more than any other RO unit
Non-electric water filter
Compact size fits neatly under kitchen sink
This revolutionary drinking water system is so advanced it can remove nearly everything from your tap water that isn't water. Now you can enjoy crystal clear, great tasting water straight from your tap.
Learn more about the K5 PURE Range:

Features
Reverse Osmosis: A filtration process where water is pushed through a semi permeable membrane to trap contaminants to produce clean, crystal clear, delicious tasting drinking water.
Delicious tasting water and food: Ideal for preparing delicious tasting food; perfect for cooking pasta, washing and preparing fruits and vegetables, or any recipe that calls for water.
Simply the best: Independently certified by NSF (National Sanitation Foundation of America) to remove more contaminants than any other reverse osmosis (RO) drinking water system.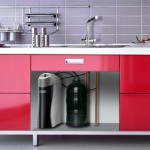 Purer water than bottled and jug filters: Water purity is measured using a standard measurement called "total dissolved solids" which is the combined content of all non organic and organic substances contained in a liquid.
Simple and easy to install: Fits easily and neatly under the kitchen sink. Does not use electricity so no need to fit power sockets or electrical wiring.
Longer lasting filter: Our patented and exclusive EverClean ® Rinse technology dramatically prolongs the life of the reverse osmosis membrane and ensures consistent high quality water.
Excellent water flow rate: Outperforms all other reverse osmosis systems with its unique QuickFlo ® tank technology. It ensures a strong and steady flow of water from the tap.
Efficient and economical to run: Operates on demand. No electricity required.
Peace of mind: Eliminates the guesswork from filter changes by using a unique and patented MACguard ® device to measure water use to accurately determine when change is required.
Easy to change filter cartridges: Unique "twist and lock" system makes changing filters quick and easy.
Easy filter metering system: Fitted with a PureMometer ® which shows you how much filter life remains so you know when it's time to obtain a replacement cartridge.
Excellent warranty option: 1 year warranty as standard. 10 year warranty on parts available if installed with a Kinetico water softener and authorised Kinetico engineer.
N.B. The K5 Pure needs a minimum of 2.41 bar water pressure to work effectively. Please consult your local water provider for more information.
Kinetico K5 Range Comparisons:
K5 Pure
Enjoy drinking filtered tap water with total peace of mind.
K5 Pure+
The perfect partner for health and fitness lovers.
K5 Pure Ultra
The ultimate in water purification when safety and security is most important to you and your family.