UV or Ultraviolet Water Purification Systems are the proven way to safeguard your family's drinking water. When you install a Perfect Water UV water purification system, you can drink with confidence. You no longer have to be concerned about bad water tests, boil water advisories or contamination by harmful micro-organisms. The PWS UV range uses the same proven UV technology employed by large systems that purify the leading brands of bottled water and the drinking water of major US and European cities.
Healthier Water Through UV Science
Disinfecting your drinking water with UV (Ultraviolet light) makes good sense. It's exceptionally effective and environmentally safe, well proven and it's the way of the future for water disinfection requirements around the globe.
How does UV disinfection work?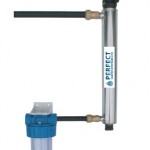 When bacteria, viruses and other micro-organisms are exposed to germicidal UV light at a particular wavelength (253.7 nanometres) their reproductive capabilities are destroyed, which means that they are inactivated and no longer pose a threat to human health. Ultraviolet disinfection systems channel water past submerged lamps that emit lethal doses of UV energy, destroying any pathogens. Not only is it safe and highly effective, UV does not change the taste, colour or odour of water. It simply removes the risk of illness caused by microbial contamination, making the water safe to drink or use commercially. That's why, for more than 20 years, institutions and businesses from hospitals to holiday resorts have relied on UV technology.
Benefits of a Perfect Water UV Disinfection System
Proven 99.9% effective
Environmentally-friendly and chemical-free
High output UV lamps
Advanced, space saving design
Automatic lamp replacement reminder
Safe and easy to maintain
Stable, energy-efficient power delivery
Reasons why you should choose a Perfect Water UV System:
First to offer a unique combination of the lamp and sleeve – making maintenance simple and no need for tools!
First to provide a timer that notifies you of the need to replace the lamp
First to provide an annual mailed reminder of the need to replace your lamp
First to make use of high-output lamps able to produce almost twice the output of conventional lamps
First to employ a design that optimizes efficiency through fluid dynamics, reducing footprint of system
First to provide a diagnostic display to explain why the system may be in alarm
First to provide a reference card with the system outlining the most important system functions and maintenance
First to offer a ten-year warranty against manufacturer's defects on the UV chamber, and three years on the circuit boards, power supply, and all electrical connections
Perfect Water UV Lamps & UV Systems
Perfect Water Systems provide UV Lamps and UV systems for various applications and flow rates ranging from 5 gpm (gallons per minute) up to 32 gpm. Click on the links to download a PDF information sheet on each model.
The Optional COMMcenter
For the first time, you can now have a real-time display of UV dose – and a true measure of how your system is operating. The optional COMMcenter also displays alarm history, lamp hours, and other performance parameters – for up to nine systems! The COMMcenter can be installed at any distance from the UV system using standard computer cable. Or go wireless with an optional FCC compliant wireless transmitter.
COMMcenter Features:
The lamp makes use of revolutionary new technology that delivers significantly greater power, stable UV output and longer life
The consistently stable lamps deliver only the required dosage and are not affected by ambient conditions.
The consistently stable lamp means you can install UV in a greater range of applications, from ice cold water to hot water re-circulation lines.
The UV system pumps out twice the UV light of current high-output lamps. This means simpler installation in tighter corners and a reduced environmental footprint.
Call our friendly staff at Freephone 1890-989098 or in Charleville at 063-89290 for more information.
If you have specific questions or just need more information, submit the form below for a quick response.